A unique Australian treasure that holds the prestigious title of being an Argyle Diamond.
No precious stone comes out of the ground perfectly formed. Invariably what enhances the worth of any gemstone is what is done to it once it is mined and brought to the House ultimately responsible for revealing its inner beauty. We know that diamonds achieving the highest grade are those that adhere to what are traditionally known as the Four Cs — Cut, Clarity, Colour and Carat. At Australian Chocolate Diamonds, we add a fifth "C" to the paradigm: Craftsmanship. It is born out of years of research, expert mentorship, mining the rarest stones and establishing relationships with the finest stonecutters in the world. Having cultivated this craft to an art form, we are proud to introduce you to the beauty and perfection of the Australian Chocolate Diamond—diamonds that are not only highly coveted but also unique and individualised in ways that set the AUSTRALIAN CHOCOLATE DIAMONDS brand apart. Australian Chocolate Diamonds are guaranteed to come straight from the source- directly from the red earth of the Argyle Mine in the Kimberley Region of Western Australia. Every AUSTRALIAN CHOCOLATE DIAMONDS is independently graded, giving you the confidence that you are purchasing a natural diamond at the specific colour, clarity and cut that you have been promised. What's more, every Australian Chocolate Diamond comes with its very own 'My Diamond Story' Certificate. This numbered certificate contains specific information about each individual stone — its origins, its original rough weight, and its Argyle lot number.
Australian Chocolate Diamonds are the perfect choice for consumers looking to offset a beautiful chocolate diamond with traditional 'whites.' Rose or yellow, white or platinum- the rich beauty of the settings complement and bring to life the warm colour palette of each unique Australian Chocolate Diamond.  They truly are a 'designer heaven' – conjuring a modern collection of jewellery design for the  creative and fashion forward, luxury consumer.


PRECISION CUT
MY DIAMOND STORY
INDEPENDENTLY GRADED
BEYOND CONFLICT FREE
LASER INSCRIPTION FOR SECURITY PROTECTION
ETHICAL SUSTAINABLE DIAMONDS
FROM MINE TO MARKET
With over 180 stockists in Australia and New Zealand, Bolton Gems has tapped into a market that has previously been untouched with chocolate coloured diamonds. Each stone goes through a series of strict criteria to meet the Australian Chocolate Diamond Grade, and is given a birth certificate containing information that has never been provided with other diamonds of this kind.
ARGYLE LOT NO.
ORIGIN OF ROUGH AND ORIGINAL WEIGHT
FULL CERTIFICATION OF DIAMOND
LASER INSCRIPTION
Unlike a ring traditionally set with a ruby or sapphire, diamonds facets won't erode with daily wear.
That's why AUSTRALIAN CHOCOLATE DIAMONDS are the perfect designer offset for the "whites," Mixing metal colour tones (i.e. YG and RG) around the setting, the halo and shank bring to life the overall tone of the Australian Chocolate Diamond. Australian Chocolate Diamonds in Peach and Apricot hues brilliantly complement lush gold claws and shanks. Rose or Yellow, white or platinum—the settings are more richly wrought because the warm colour palette of AUSTRALIAN CHOCOLATE DIAMONDS conjures a modern mother lode of daring new designs.
An Australian Cut Diamond is the perfect choice for an engagement ring.
Giving the opportunity to stay within tradition by choosing a diamond, an AUSTRALIAN CHOCOLATE DIAMONDS allows much more scope for individual expression. Where white is traditional, and generally difficult to distinguish, an AUSTRALIAN CHOCOLATE DIAMONDS diamond is different. Even within the colour grading of C1 to C7 there are many variations of colour depth and tone making each AUSTRALIAN CHOCOLATE DIAMONDS purchase and design particularly unique.
Australian Chocolate Diamonds are affordable luxury, making it possible not only to invest in a larger—higher ct— diamond, but also to enjoy knowing that you are purchasing an ethically sourced AUSTRALIAN CHOCOLATE DIAMONDS for your engagement ring.
Colour
Australian Chocolate Diamonds are graded against the Argyle Colour Grading Scale ranging from C 1 to C 7, with most Australian Chocolate Diamonds grading within the C 4 to C 6 colour range. Certain colour grades are often selected for diamond jewellery designs specifically because they provide the ideal complement for the setting.

Cut
"Cut" in this case, has all to do with the quality of the cutting. It is the single most important aspect of any diamond. The proportion, finish and symmetry of the external facets of the diamond are what help create the fire and the brilliance. A diamond may be flawless but if it is not well cut it will appear dull and lifeless. That's why AUSTRALIAN CHOCOLATE DIAMONDS are a "cut above."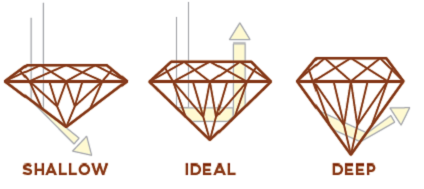 Clarity
Let's be "clear about it." Few things in nature are absolutely perfect. This is as true of diamonds as anything else. Clarity refers to the amount and size of natural imperfections in the diamond. These may be internal (inclusions) … or external (blemishes). The fewer inclusions in a diamond, the rarer and more valuable the gem. Inclusions are often referred to as natures fingerprint.
Australian Chocolate Diamonds Cutting Factory
Australian Chocolate Diamonds supports communities through employment opportunities to local residents, and by providing work opportunities for over 70 master diamond cutters. The AUSTRALIAN CHOCOLATE DIAMONDS diamond-cutting factory is located abroad and has a commitment to improved working and pay conditions as part of its dedication to the production of an ethical and sustainable diamond brand. Diamond Cutters at the Australian Chocolate Diamond Cutting Factory have meals provided for them during their workday
Argyle Australia
Australian Chocolate Diamonds are sourced directly from the Australian Argyle Diamond Mine in Western Australia. Argyle is committed to being industry leaders in the areas of reducing environmental impact, and building positive community relationships.
Argyle works to minimise environmental disturbances and initiate 110% reclamation of terrain as soon as is humanly possible.
From a 'fly in, fly out' approach, Argyle has moved to localizing their workforce; with an aim of 80% permanently based in the East Kimberly Region, and the intention—with fulfillment schedules—that half this workforce will be indigenous.
As further example of its "community commitment" Argyle involves itself in local charities concerned with the advancement of children's health and education.